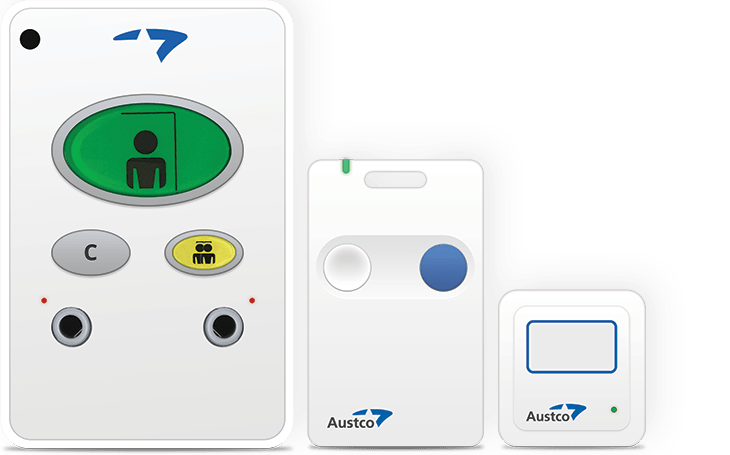 The features you expect from a 3rd-party RTLS system, built into Tacera
Automatic Staff Presence
With dual-technology RTLS, the badges and call points interact wirelessly to record a presence event in a location. Caregivers no longer need to press a physical presence button.
The presence events can optionally initiate other processes, and all events are logged for reporting.
Automatic Call Cancellation
If there is an active call in a given location, Tacera can automatically cancel it when staff are detected there.
The alarm lists are updated, and staff presence is displayed on workstations, mobile devices, and other interfaces within the system.
Mobile Duress
The badges are enabled with programmable buttons, and users can call for help, wherever they are.
When pressed, the location displayed in the nurse call system will be that badge's current location.
Automated Workflow
Many processes can be initiated with auto-presence and auto-cancel, including:
Send messages or place audio calls
Automatically log completed rounds
Mute the chimes
Display role-specific content on in-room screens and mobile devices
Reporting
All location and button press data is stored for reporting, including room visits, response times, and time spent in rooms.
With this information, healthcare organisations can access complete audit reports, better monitor how care is delivered, and identify opportunities to improve.
Staff, Resident, and Patient Visibility
Tacera can light the over-door light in rooms where staff are present, so other staff know, at a glance, where care team members are located.
For residents and patients, Tacera can activate a different color to indicate the resident or patient has left the room.
How it works
Your nurse call hardware is also your RTLS infrastructure
Austco hardware, deployed throughout a building, creates a network of sensors.
Staff, residents, and patients carry a small, battery-powered badge that automatically interacts with these sensors to report their location.
With each interaction of badge and sensor, data is sent to the RTLS server, and Tacera records the badge location and time.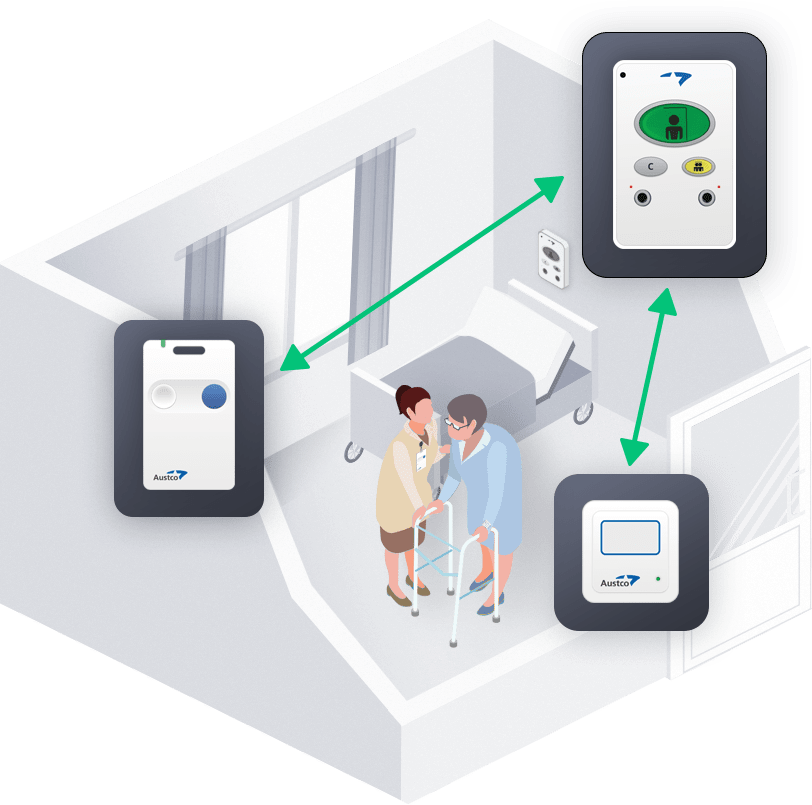 Wireless Options
Choose the wireless technology that is right for your facility, workflow, and staff.
Dual-technology RTLS
Features smart staff and resident badges for location tracking and mobile duress.
Dual-technology RTLS uses a combination of wireless technologies to achieve the most accurate positioning, and efficient data transfer between badge and hardware.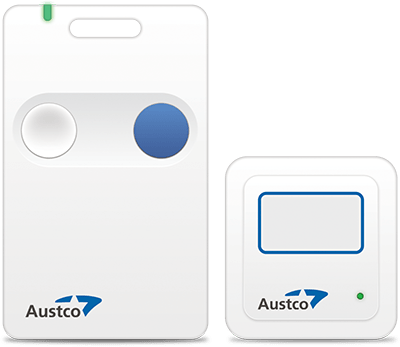 RFID
If your facility uses prox cards for ID, presence, or access control, call points can be equipped with an RFID antenna.
Achieve presence and automated workflows with Austco branded cards, off-the-shelf cards, as well as RFID-enabled phone cases.
Standard protocol works with many manufacturers' cards.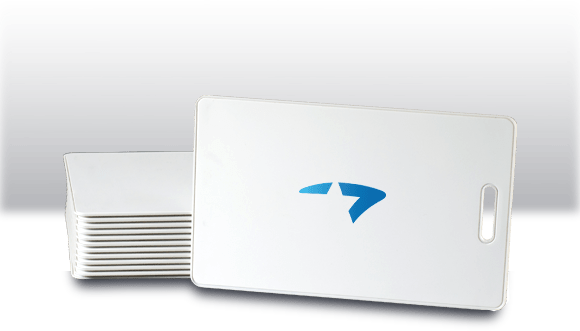 Get More Information
Contact Austco for more information about Built-in RTLS, and to receive a price estimate.
Schedule a Demo
See Built-in RTLS in person. Schedule a webinar or a demo at your facility.